Download the full report here.

Conducted online, 500 people with investments of £10,000 or more from across the UK were surveyed and asked a number of questions to gauge levels of confidence pre and post Covid 19. The sample – representative of a broad demographic – included retired and non-retired respondents. The study also included eight in-depth interviews with financial advisers. Here are a few of our findings:
OLDER INVESTORS TAKE CONFIDENCE HIT
Current confidence levels amongst UK investors are low as they grapple with the uncertainty of Covid-19 – dropping 38 percentage points. The study has also revealed that older investors (aged 55+) have taken the biggest hit with a 54 percentage point drop in confidence levels post pandemic whilst the younger investors (18-34) (that indicated relatively low levels of confidence pre-Covid19) have remained relatively optimistic throughout the crisis indicating a drop of just 19 percentage points.
Interestingly men are considerably more downbeat than women with post-Covid19 confidence scores dropping 41 percentage points and 33 percentage points respectively.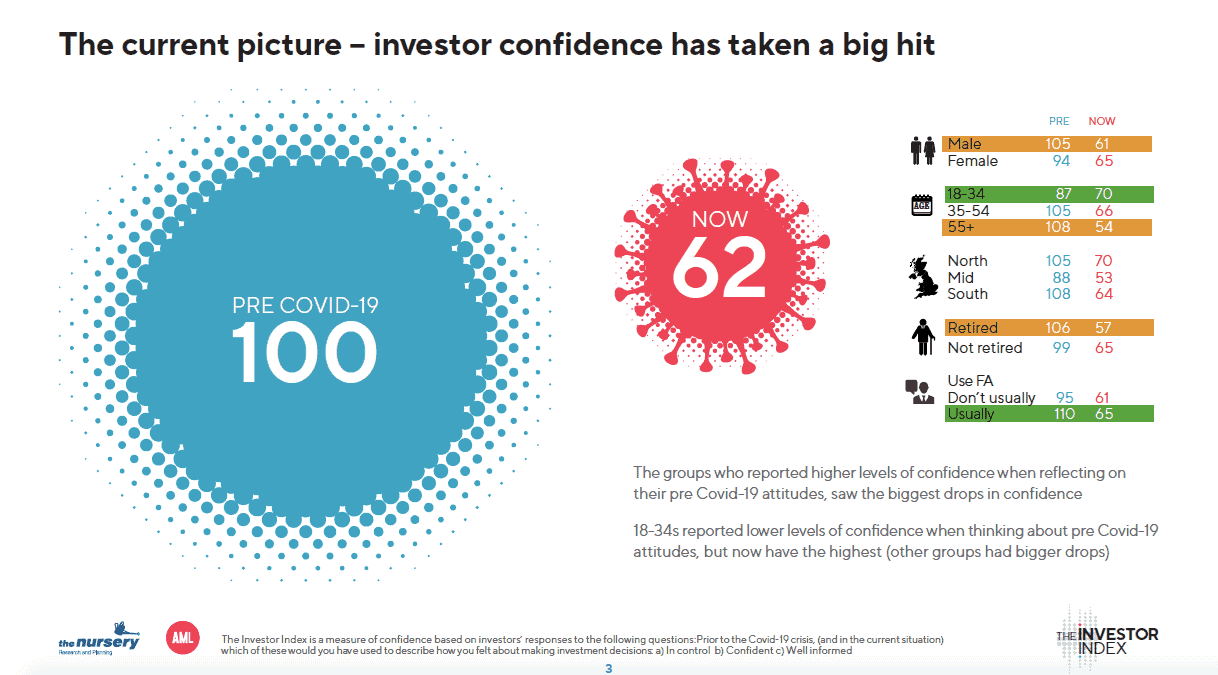 FINANCIAL FEARS
Not surprisingly, almost half of investors (48%) are thinking more about their finances as a result of the coronavirus pandemic with 34% focusing more on their family's financial security. Of those investors surveyed, 1 in 8 are feeling cash strapped and worried about monthly finances such as their mortgage and bills with 16% concerned about financially supporting loved ones. However whilst there is obvious concern and unease amongst the retail investor community only 8% have divested or cashed-in an investment which suggests most are playing the long game and are optimistic about the future.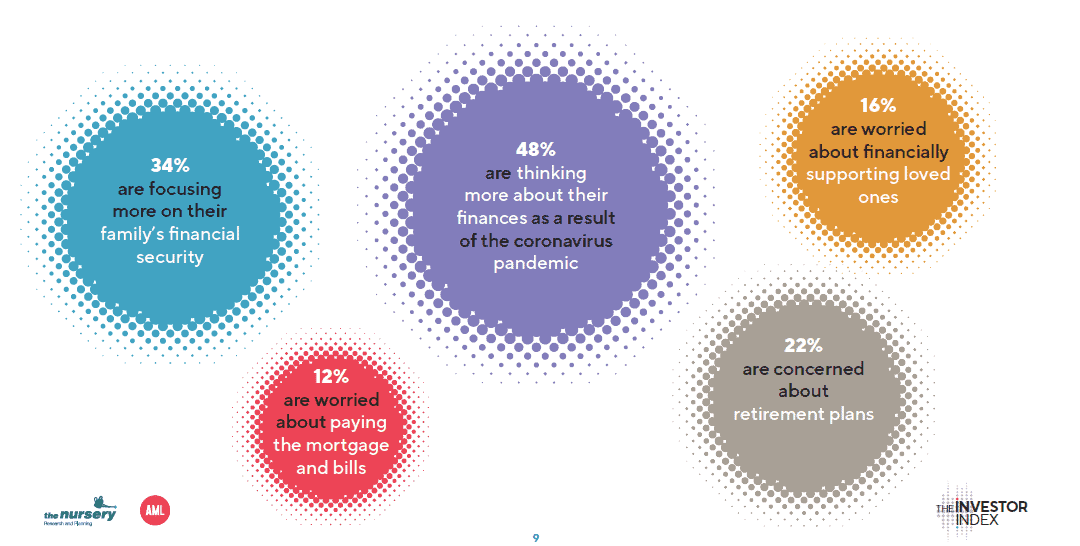 BOUNCING BACK
44% of investors are confident that the markets will bounce back; this is highest amongst the wealthiest, and those already retired. Across the board, approximately a quarter (23%) believe this situation to be a short-term dip with a return to 'normal' within six months with almost one-third (30%) seeing the pandemic as an opportunity for savvy investors.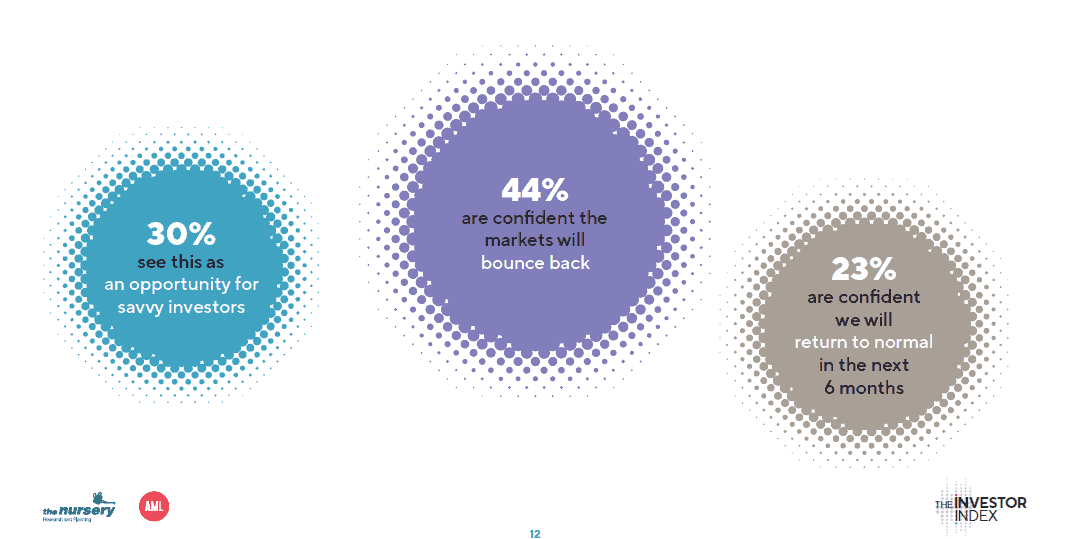 A TOUGHER JOB FOR ETHICAL
And whilst 35% of investors continue to believe it is important that their investments consider their environmental and social impact, only 25% rank the ethical and social standing of products in their top five reasons for actually making an investment.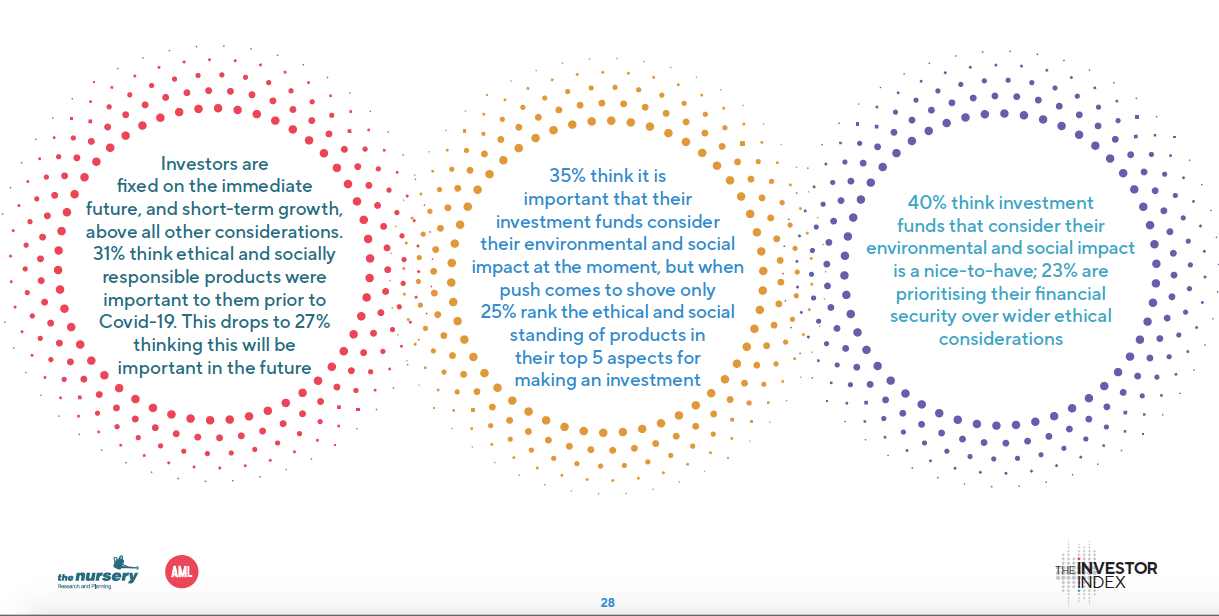 ASK THE ADVISER
As well as capturing a snapshot of current investor activity and concerns, the Investor Index also sought to explore the role of the financial adviser and the impact of Covid-19.
Following in-depth interviews with eight financial advisers including small and large IFAs and Wealth Managers it has become clear that the role of the financial adviser (FA) and their relationship with clients has changed dramatically due to the current crisis.
As confidence levels amongst investors dips so the FA becomes a more integral and trusted source of advice and expertise. According to the research, 34% of investors who use an FA have stated that they 'always get advice from experts' compared to just 25% pre-pandemic – a dramatic increase that has also seen the role of the FA flex to meet the changing needs of the UK investor. No longer just a source of financial advice, the FA is now fulfilling multiple roles including life coach, planner and predictor. It seems investors have not only fled in fear to their advisers but that advisers have also done much to pull investors towards them.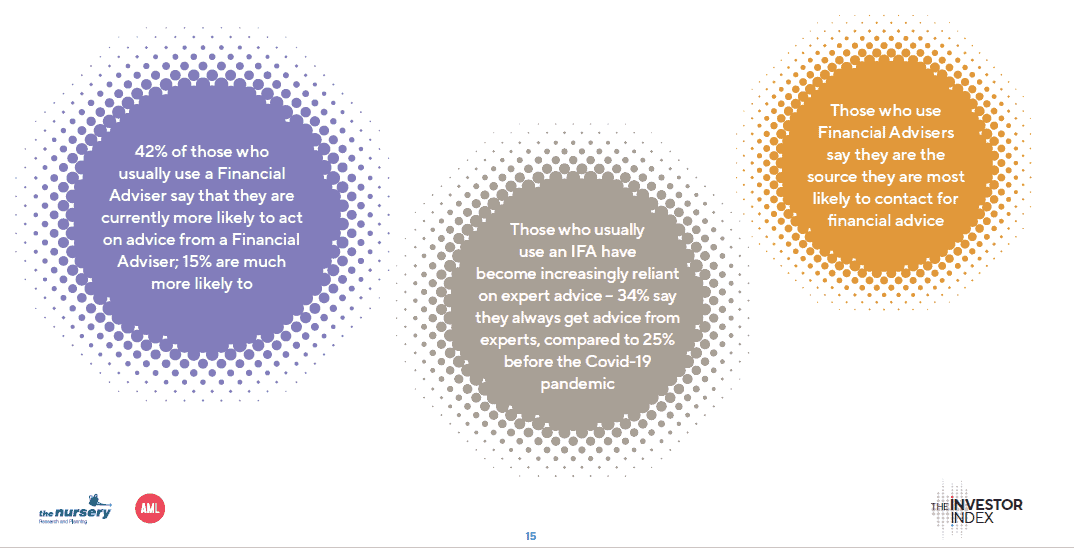 For more results and our conclusions download the full report here.