First up Allermuir – chairs, desks and a stonking view of gorgeous Charterhouse Square.
Also the place with the most ironic book title in Clerkenwelldom.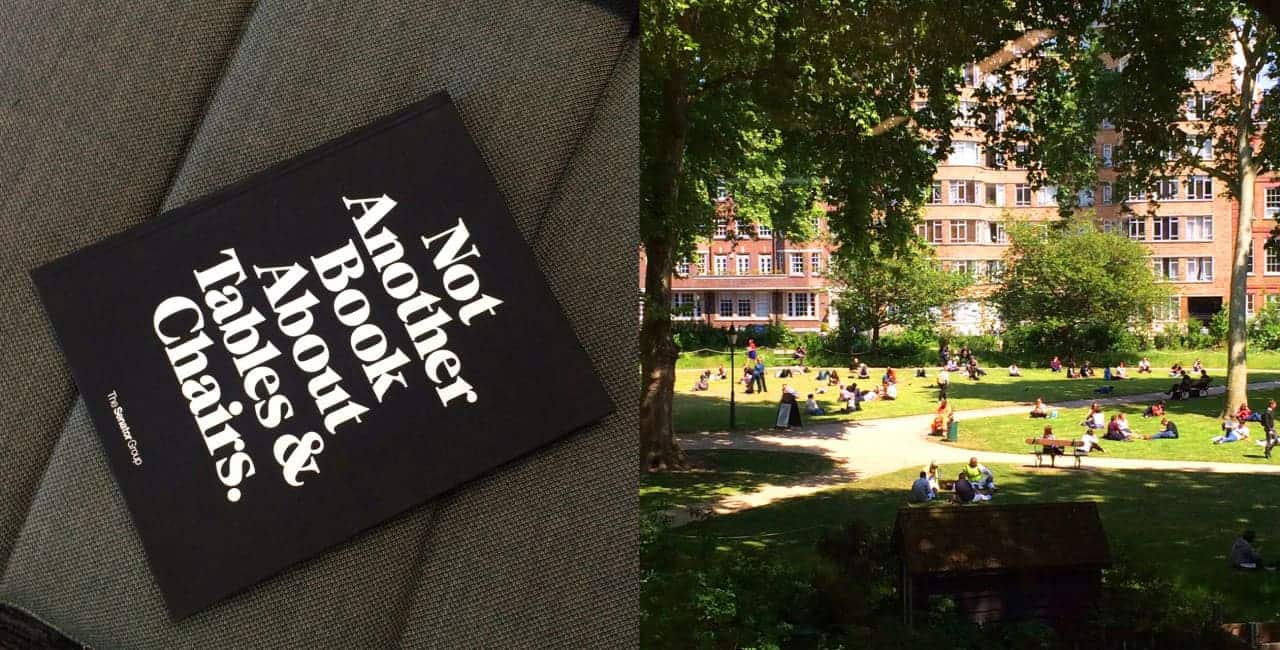 Up the road from there, in Brewhouse Yard, we found Koleksiyon suppliers of our wonderful new boardroom table. They have a menagerie of large scale animals such as 'Spot the dog' and 'Rhinestone' created by artist Finn Stone, dotted around their large showroom.
Plus a photobooth which captured our supermodels Hobie, Nico and Jack in glorious gif-ness.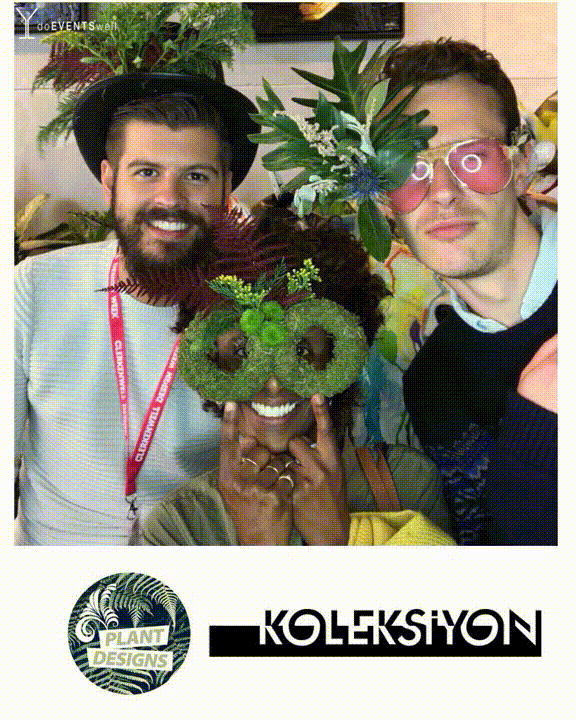 Our neighbours across the road, Marazzi, have some very large anglepoise lamps. This required the placement of Hobie to show its full scale. (Note: Hobie is actually quite small, so the lamp isn't as big as the picture implies).
Speaking of Hobie, she was very successful in dragging people away from AXA, EXO, EXCO, etc. to have a mooch around. Here she is with Nico and a large aluminium Shakespearian ruff.
Spa fields is a little park, with no discernable spa as such, but in a brief non-tile related incident, there was a BBQ demonstration. From a striking new barbeque design by Grillo. Great design should always function well, so we felt compelled to try rather a lot of lightly seared animal parts and perfectly griddled spring vegetables – very tasty.
Seeking inspiration for AML's roof garden, Chris, Hobie, Stephen and Inma went up to the ultra-charming roof of the Le Vol kitchen showroom building. The antique staircase led past beautiful period rooms and a perfect small roof garden. No modern furniture up there, but a stunning view across St John Square, and into one of Clerkenwell's hidden gems, St John Cloister Garden, where gorgeous unaffordable outdoor furniture was being displayed.
A quick coffee at a London double decker bus refitted by Hav Woods provided the perfect opportunity to get a moody photo of copy guru Abhi.
Then back to work, not before being accosted by this familiar couple taking their dog out for a walk. Honeymoon in Clerkenwell?
As ever, Clerkenwell Design Week taunted and tempted us with it's beautiful chairs, luscious lighting and cool exhibitions. But it was all over too quickly. We may not have added much fabulous furniture to AML this year, but we added a few inches to our waistlines in freebie nibbles and bubbles, and had a lot of fun in the sun. Roll on CDW 2019!